Your Doctor's Role In Your Social Security Disability Claim
Sept. 30, 2022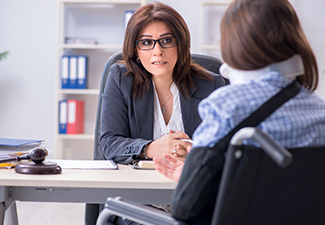 The Social Security Administration (SSA) administers two programs for people facing disabilities. Social Security Disability Insurance (SSDI) is based on the applicant's qualifying for benefits, not just through a provable disability but through a history of contributions to the Social Security Trust Fund through work or self-employment taxes. The other program is called Supplemental Security Income (SSI) and is based on age (65 or older), blindness (any age), or disability (any age), along with limited income and resources.
If you're applying for either program based on disability, you will need to meet the SSA's definition of disability. You will also be required by the SSA to provide proof of the physical or mental impairment that you claim is preventing you from engaging in employment that can provide for most if not all of your needs.
If you simply fill out an application for SSDI or SSI and submit it without medical evidence – that is, without a statement and other documentation from your attending physician – you can expect the SSA to come back and request more information. Even if you comply with all the SSA's requests, there's still a good chance your claim will not be honored on the first go-round. More than 60 percent of initial claims are historically rejected.
If you're in the process of applying for SSDI or SSI in Raleigh, North Carolina, contact me immediately at the Lloyd King Law Firm PLLC.
I am a former Social Security disability judge who has heard many appeals of benefit denials and understands how the SSA operates when it comes to granting benefits. I can help you navigate the process and assemble a complete supporting package for your application. I can also help if you need to file an appeal.
I proudly serve clients in Raleigh, Roanoke Rapids, Fayetteville, and Greensboro, North Carolina.
Get Your Doctor Involved in the Benefits Claim Process
If you've been seeing a physician for your condition, that person should be familiar with the nature of your disability. If you've just encountered a disabling physical or mental condition, you should see a doctor immediately and begin a doctor-patient relationship. Your doctor – and their testimony and statements regarding how your disability affects you – are going to prove crucial to obtaining SSDI or SSI benefits.
Even after you've established a relationship with a physician treating you for your condition, that person still may not be fully aware of the range of limitations affecting you. The SSA will want to know the details of what you can and cannot do as a result of your disabling condition.
Therefore, it's a good idea to make a list – one that is written out – of everything that limits your ability to do gainful work and provide it to your physician. The doctor may understand that because of a back injury, you cannot stand for more than a certain period of time before having to sit down. What they may not realize is that the use of your arms or hands is also restricted by the same condition, and thus you may not even be able to operate a keyboard.
Your list of limitations will be essential because, when you open a claim for SSDI or SSI, along with your application, you need to include a statement by your physician detailing how your condition limits your activities. In short, the more detailed the statement is, the better your chances are of succeeding the first time you apply.
The SSA Residual Functional Capacity (RFC) Assessment
The SSA relies heavily on what is known as a "Residual Functional Capacity" (RFC) assessment, which is a questionnaire filled out by a Disability Determination Services (DDS) physician based on the information supplied by you and your physician with your application.
To get one step ahead of the RFC process, you can download a copy of the questionnaire, have your physician fill it out, and then submit that with your claim. I can also walk you through what the SSA will be looking for on the form.
The SSA Consultative Exam and Appeals Process
Even with a doctor's statement and completed RFC form, the SSA may still decide to ask you to undergo a consultative exam. Again, your doctor can play a vital role in responding to any findings from a consultative exam done by an SSA-retained independent physician. Your physician's length of time in treating you will help outweigh any quick or hasty judgment reached during a consultative exam.
Your doctor will also prove vital should your application be denied and you need to mount an appeal. Generally, this will mean the SSA will require more evidence to justify your claim of disability, which your physician can assemble and supply. In either case -- consultative exam or appeal -- check with me, and I'll advise you of the steps to take and the documentation/evidence that needs to be supplied.
The Importance of Skilled Legal Advocacy
Time is of the essence if your disability is preventing you from earning sufficient enough living to provide for yourself. Even after an SSDI application is approved, benefits don't start for six months after the SSA determines the date of your disability. SSI starts the next month.
Confer with me before beginning the claims process, and I can work with you to ensure you submit as complete an application package as possible. I have years of experience with the disability claims and appeals process, and I can help you navigate the system.
If you're in Raleigh, Roanoke Rapids, Fayetteville, or Greensboro, North Carolina, reach out immediately to the Lloyd King Law Firm PLLC for all your disability claims issues with the Social Security Administration.