What to Expect at Your Social Security Disability Interview
July 13, 2022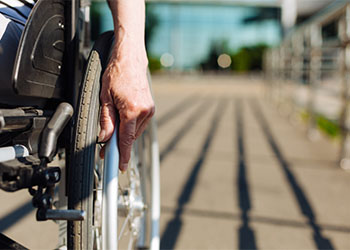 The Social Security Administration (SSA) manages two federal programs that provide benefits for those who are disabled and unable to work: Social Security Disability Insurance (SSDI) and Supplemental Security Income (SSI). For both programs, you will have to be suffering from a mental or physical condition that prevents you from working for at least 12 months or even until death.
The SSA, before approving your benefits, will need to ascertain whether you can or cannot perform the work you are experienced in and accustomed to doing, and further whether you can do work in any other occupation. The disability agents reviewing your claim will also need to verify your physical or mental condition preventing you from working. This will involve medical records, physician statements, and perhaps more.
The most apprehensive of all the steps in the verification process, whether you're applying for SSDI or SSI, is that an SSA agent will interview you to ascertain and verify all the facts. This may be done in person, or due to COVID, sometimes by phone. The interview can last up to an hour, and the disability agent interviewing you will cover just about every aspect of your working, financial and medical conditions. It can be a frightening prospect.
If you're in the process of filing for either SSDI, SSI or have already begun the process, and you're in Raleigh, North Carolina, contact me at the Lloyd King Law Firm PLLC. I am a former Disability Judge for the Social Security Administration, and I am familiar with all their requirements. I proudly serve clients in Roanoke Rapids, Fayetteville, and Greensboro, North Carolina.
The Disability Interview
The primary difference between SSDI and SSI is the number of work credits you have accumulated and your income level. A work credit is accumulated by contributing through payroll or self-employment taxes to the Social Security system. In 2022, you can earn up to four credits a year for each $1,510 you earn and pay taxes on. An SSDI application generally will have to have 40 total work credits and 20 within the past ten years, but it varies by age. For SSI, you must have a minimum of six work credits. SSI is generally for low-income persons with few assets.
As mentioned earlier, you must also have a qualifying disabling physical or mental condition that will last at least 12 months. Assuming you qualify, you will be required to undergo an interview. The interview will cover your general information, your work history, your medical history, your financial situation, and if applying for SSI, your overall living situation. Here is a breakdown of what to expect:
GENERAL INFORMATION: Your current name and any previous names; your Social Security number; your educational history; the names and dates of birth of your spouse and any children.
MEDICAL HISTORY: Here the questions get more specific, including:
When did your medical condition prevent you from working?

Who is the doctor treating you? Contact information?

When did your treatment start?

Which tests did you undergo – X-Rays, MRIs, others?

Have you had to visit an emergency room or been hospitalized?

Which medications are you taking, and what are their dosages?

What is your ability to care for yourself? Do you need help with household chores, cooking, cleaning, etc.?
WORK HISTORY: Again, more specific:
When was the last time you worked?

What were your job titles during the past 15 years?

What are your dates of employment for those jobs? Contact information for those employers?
FINANCIAL INFORMATION: The routing and account numbers for your bank account to receive potential disability payments. If we cannot contact you, who else can we contact?
SSI APPLICANT SUPPLEMENTAL QUESTIONS: SSI applicants must be low income and have no more than $2,000 in assets if single or $3,000 if filing jointly, though there are exemptions in the calculation for your home, your vehicle, burial plot, and life insurance. The SSA website concerning SSI interviews says they will ask you questions about:
Your current living arrangement, including who lives there and household expenses;

All sources of income for you and your spouse, if applicable; and

The number of your resources, including bank account balances, vehicles, and other investments.
Preparing for the Interview
From the above list of standard questions, you can see what type of evidence and historical information you will need to prepare in advance of the interview. You definitely don't want to go into the interview fumbling for answers. Gather all your work history and employer contact information for the past 15 years. For your medical documentation, go back a year or to the onset of your disability if it's less than a year.
The SSA will usually send you a form in advance that you need to complete that will cover many of these questions and pertinent contact details, but if it does not arrive in time, you should prepare on your own. Of course, working with an experienced Social Security disability attorney is always your best guarantee of being fully prepared and completing a convincing interview.
What Happens After the Interview?
The claims agent interviewing you will review your non-medical responses and then forward everything to a disability claims examiner at Disability Determination Services (DDS) to evaluate your case for disability benefits.
How the Lloyd King Law Firm PLLC Can Help
The interview can be a time of great stress if you try to go it alone. Get the help of an experienced SSA disability attorney in advance. Your attorney can not only help you file your claim and assemble supporting documents, but they can also coach you on the interview so you can leave your stress behind.
If you're in Raleigh, Roanoke Rapids, Fayetteville, or Greensboro, North Carolina, contact me at the Lloyd King Law Firm PLLC immediately upon suffering a disability preventing you from working. I am a former Social Security disability judge who knows the ins and outs of the entire process. I can help assist you every step of the way.