SSDI for Disabled Veterans
April 14, 2022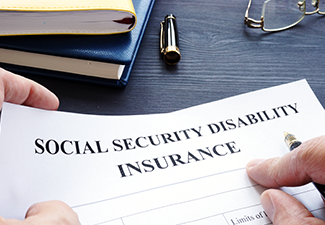 Disabled veterans may be eligible for Social Security Disability Insurance (SSDI). If their disability is service-related, they may be eligible not only for SSDI but also for veteran's benefits and receive both at the same time.
The Social Security Administration (SSA), which administers the SSDI program, relies on three factors to consider your qualification: You worked and paid into the Social Security trust fund, you did so long enough and recently enough to earn the required work credits, and you have a disability the agency considers qualifying.
If you're a disabled veteran living in or around Raleigh, North Carolina, you deserve skilled representation. Contact me at the Lloyd King Law Firm PLLC. I am a former Social Security Disability judge and I know how to fashion a strong case to help you receive SSDI. I also proudly serve clients in Roanoke Rapids, Fayetteville, Greensboro, and the rest of North Carolina.
Understanding Social Security Disability Insurance
SSDI is a program administered by the Social Security Administration that pays monthly benefits to those who are unable to work for a year or longer because of a disability.
To be recognized as disabled, you must meet the SSA's definition, which is "the inability to engage in any substantial gainful activity (SGA) by reason of any medically determinable physical or mental impairment(s) which can be expected to result in death or which has lasted or can be expected to last for a continuous period of not less than 12 months."
SSDI is not available for those with short-term or partial disabilities.
Qualifying for SSDI
To qualify, you must have paid into the Social Security trust fund through taxes at work or through self-employment taxes. Depending on your age, you must have accumulated enough of what the SSA calls "work credits" to be eligible. At age 62, for instance, you must have earned 40 work credits, 20 of which were earned in the 10 years prior to applying. There is a graduated scale of credits needed, so younger persons will generally need fewer credits.
You can earn four work credits each year. In 2022, you earn one work credit for every $1,510 in wages or self-employment income.
Additionally, you cannot have assets totaling more than $2,000 if you're single, or $3,000 if you and your spouse are applying for SSI jointly. A house and car you own generally don't count toward assets.
The SSA also administers another program called Supplemental Security Income (SSI), which is based on financial needs. To qualify, you must be either 65 or older, totally or partially blind, or have a medical condition that falls under the definition of disability.
The SSDI Process
The SSA maintains a list of qualifying conditions. If your medical condition doesn't fall into one of their categories, you will likely not be approved for benefits. The SSA will also determine whether your condition is severe enough that you cannot engage in any "substantial gainful activity." In other words, if the SSA determines that you can do work other than that required by your current or most recent job, it can reject your application.
If your disability stems from your service, the SSA maintains two expedited programs. One is for Wounded Warriors. The other is called the 100% Permanent and Total Veterans Initiative.
Wounded Warriors
Under the Wounded Warriors program, veterans who incurred mental or physical disabilities while serving on active duty on or after October 1, 2001, can get expedited processing. The injury does not have to be combat-related. While applying for SSDI or SSI, you should note on your application that the injury occurred while on active duty. A Social Security disability attorney can help you with the details.
100% Permanent and Total Veterans Initiative
In March of 2014, the SSA announced an expedited processing option for veterans who have a 100% Permanent and Total (P&T) disability rating from the Department of Veterans Affairs (VA). Veterans should identify themselves as a "Veteran rated 100% P&T" when initiating the SSI/SSDI application, and should provide the VA rating notification letter to the SSA.
Veterans who qualify for both SSDI and VA benefits can retain both without any adjustment by the SSA. Veterans who qualify for both SSI and VA benefits will, however, have the sum received from the VA deducted from the SSI allowance, with an exclusion of $20.
Thus, if you receive $400 a month from the VA, $20 will be excluded, and the $380 remaining will be deducted from your SSI. The 2022 SSI benefit amount is $841, so $841 minus $380 is $461. Your total benefits will then be $861.
Your Right to Appeal
More than half of SSDI applications are rejected. After considering your application and supporting evidence, the SSA will send you what it calls a letter of determination, which will list the reason(s) for not qualifying you. You can then ask for a reconsideration by another agent, who will put fresh eyes on the application you submitted.
If the reconsideration is still unfavorable, then you can request a hearing with an administrative law judge (ALJ). If the judge rules against you, you can request the SSA's Appeals Council to review the judge's decision. The council may return the appeal to the judge for reconsideration, approve the ruling, or issue its own ruling. The only option if the council rules against you is to file a lawsuit in federal district court.
Skilled & Compassionate Advocacy
Many times, people filing on their own fail to make a strong enough case to substantiate their disabling condition. If you're a disabled veteran in or around Raleigh, North Carolina, contact a skilled attorney. As a Social Security disability lawyer, I can help you assemble the proper supporting documents and evidence for your initial application. If your application has already been turned down, contact me immediately, and let's get the medical evidence together to press your claim forward.
From my experience as a former Social Security Disability judge, I have an inside perspective on what the SSA expects when an SSDI application is submitted. Contact me at the Lloyd King Law Firm PLLC. I can help you in all phases of the SSDI application and appeals process.