How Do They Decide if I Still
Have a Qualifying Disability?
June 10, 2022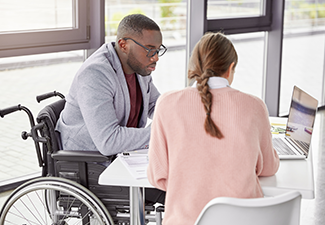 The Social Security Administration (SSA) runs two programs for disabled Americans. Social Security Disability Insurance (SSDI) is available for those who have a qualifying disability and have paid into the Social Security Trust Fund through employee or self-employment taxes. Supplemental Security Income (SSI) is a federal program paid out of general revenues and not from Social Security funds. It is available for those with limited income and resources who are 65 or older, blind, or disabled. For some people, both programs may be available at the same time.
If you're considering applying for either, it's important to understand that—by the SSA's own statistics—only about one-third of all applicants are successful in obtaining benefits on their initial application. Then, once you finally qualify for benefits, the SSA must periodically review your eligibility to see if you should continue receiving the cash awards. This is what is known as the Continuing Disability Review (CDR) program. CDRs are required by law at least every three years, but in cases of disabilities that show little or no chance of improvement, the review may be stretched out to five or seven years.
If you're disabled and considering applying for SSDI, SSI, or both, and you reside in Raleigh or anywhere else in North Carolina, contact me at the Lloyd King Law Firm PLLC. Likewise, if you've been denied benefits and need to appeal, or you're up for a CDR — or as a result of a CDR, your benefits will be curtailed or eliminated — contact me immediately. As a former Social Security Disability judge, I know how the system operates and what is needed to press your claim for benefits or the continuation of benefits.
I proudly serve clients not only in Raleigh, but also in Roanoke Rapids, Fayetteville, Greensboro, and the rest of the state of North Carolina.
Fundamentals of a Continuing Disability Review (CDR)
Once you receive benefits under either SSDI or SSI or both, you will be subject to a periodic review to determine if your eligibility remains. Here, it's important to remember that a disability under federal law must be one that will last at least 12 months or longer, even to the point of death, and it must also be such that you cannot work in any occupation.
If your bad back, for instance, means you can no longer lift crates in a warehouse, that does not necessarily make it impossible for you to function at a desk job. Therefore, your benefit request may likely be denied.
The standard for what qualifies as a disability is "the inability to engage in any substantial gainful activity (SGA) by reason of any medically determinable physical or mental impairment(s) which can be expected to result in death or which has lasted or can be expected to last for a continuous period of not less than 12 months."
Substantial gainful activity means any job at which you can work and earn money. If you can still work and earn more than $1,350 a month, you will not qualify for SSDI. For SSI, it is $794 a month. These amounts are subject to fluctuation, but they generally hover around those figures.
Additionally, given the advances of modern medicine and the rehabilitation process, a disease or condition that initially prevented you from working in any occupation may suddenly improve to the point that you can obtain substantial employment once again. This is why CDRs are ordered by law.
How Frequent Are CDRs?
Your initial benefits award notification letter will advise you of when a review will take place. In the SSA's own words, "If improvement is expected, your first review generally will be six to 18 months after the date you became disabled." If improvement is possible but hard to pinpoint a time frame, the review will come in three years, and potentially every three thereafter. If improvement is "not expected," the review may come in seven years.
When the review comes, the SSA will ask you as the recipient to supply contact information for all your doctors and treatment providers, along with patient records and any information about work you performed for pay. The SSA will consult with your physicians and other medical caregivers and review your records. If deemed necessary, the SSA may also request that you undergo a special examination or test at their expense.
After all these steps have been taken, an experienced SSA disability examiner and medical consultant will review all the information obtained. The SSA pamphlet describing the CDR process plainly states: "If your medical condition has improved, and we decide you can work, your benefits will stop." If, on the other hand, your condition hasn't improved sufficiently, the benefits will continue.
What Can You Do If Your Benefits Are Ended?
If the SSA does determine to end your benefits, you have the same four appeals options that you would have had your initial claim been denied. You can ask for a reconsideration, request a hearing before an administrative law judge (ALJ), file for a review by the SSA Appeals Board, and as a final recourse, bring a civil action in a federal court. These steps must be followed in order, with a 60-day window between each after which you lose your appeals privilege.
The SSA, however, does have programs to allow you to work and continue receiving benefits. For nine months, which do not need to be consecutive, you can work and receive "unlimited earnings" and still receive full SSDI or SSI benefits. Other rules allow you to continue on Medicare and receive cash benefits while you attempt to return to a regular work schedule.
How Skilled Advocacy Can Help
Most issues with SSA disability benefits and their approval hinge on the medical evidence you supply as a claimant, or as a beneficiary who is undergoing a CDR. As a former Social Security Disability judge, I know what the SSA is looking for in the way of medical proof, and I can help you assemble the package of documents and testimony that can speed the process and improve your chances of success.
Whatever stage you are in the Social Security disability process—just starting, needing to file an appeal, or facing a CDR—contact me at the Lloyd King Law Firm PLLC. I can guide you every step of the way as you navigate the system and also represent you as necessary in hearings or appeals. I proudly serve clients throughout North Carolina, including Raleigh, Roanoke Rapids, Fayetteville, and Greensboro.